What's So Great About Classical Christian Education?
So glad you asked. It's a movement that inspires fervent, passionate fans of anyone who becomes acquainted with it. Ask a parent, a teacher, or a Classical Christian School alum what they think about Classical Christian Education, and you'll likely be met with near-breathless enthusiasm.
You'll hear things like "joy of learning," "critical thinking," and "rigorous but exciting." You might hear stories of creative, curriculum-enhancing events, of memory-building songs, or of thought-provoking debates. It is likely to all be centered around a deep appreciation for God's truth, beauty, and goodness in all disciplines, and firmly-founded faith.
And the proof is in the graduates it produces. Read on, or see the "Good Soil" study results here.
A Classical Foundation at Veritas
At its core, Veritas Academy is a Classical Christian School, founded in 1996 and one of the first fully-accredited schools with the Association of Classical Christian Schools (ACCS). Following this time-tested, proven model established centuries ago and still profoundly effective today, our curriculum works through the stages of the Trivium - Grammar, Logic, and Rhetoric - to develop students who love learning, know the facts, reason well, and communicate exceptionally.
The Classical Stages of Learning
Discover the Trivium
What do Copernicus, Martin Luther, Leonardo da Vinci, Thomas Jefferson, Susan B. Anthony, Frederick Douglas, Marie Curie and Albert Einstein all have in common?
They were all Classically educated. The model we employ hearkens back to the proven tools of learning that have cultivated some of the world's greatest thinkers and leaders.
Classical Christian Education works in part because it capitalizes on the natural God-given strengths in each phase of a child's development. This three-phase model is known as the Trivium, and each step builds upon the last to produce students who possess an abundance of knowledge, who can think critically and reason well, and who can communicate exceptionally through the written and spoken word.
Click a button below to learn more about each phase:
The Foundations of Veritas
You can get an overview of Veritas Academy's Classical distinctives, as well as our official Philosophy of Education, by clicking here.
Cultivating Kids in Good Soil
In 2018, a nationwide study was conducted by Cardus that examined the state of being for young adults and how their K-12 education affected their life outlook, career and college preparedness, spiritual life, cultural involvement and more. The survey compared and outlined results from graduates of five different types of schools: public, secular preparatory, Catholic, evangelical, and homeschool.
The leaders of the Association of Classical Christian Schools (ACCS) were curious as to how, precisely, Classical alumni stacked up to all other types of schools. So, they commissioned the University of Notre Dame to conduct the same exact survey with over 300 alumni from Classical Christian Schools (aged 23-44), and then compared the answers.
The results were astonishingly clear.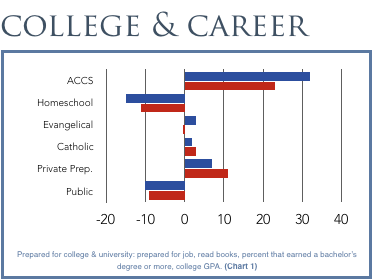 It's true that Classical Christian Education is very distinctive in its approach. And from this study, it's clear that the distinctive qualities of Classical Christian Education are working to produce graduates who are firm in their faith, who have exceptionally healthy life outlooks, who are prepared for college and careers, who are actively engaged in their communities as leaders, and who pursue truth and think independently.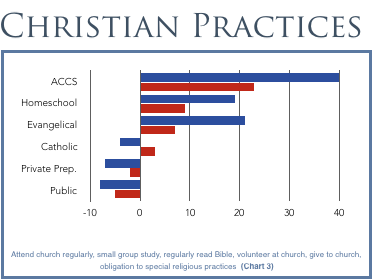 We invite you to explore these results for yourself. If this is what you want for your child when they graduate - to be utterly prepared for the world ahead, to pursue knowledge and truth, to have a passion for making a difference, and to be firmly founded in their faith in Christ - then consider a Classical Christian Education to cultivate them in "good soil" for lasting fruit.
Get To Know Veritas: Contact Us!